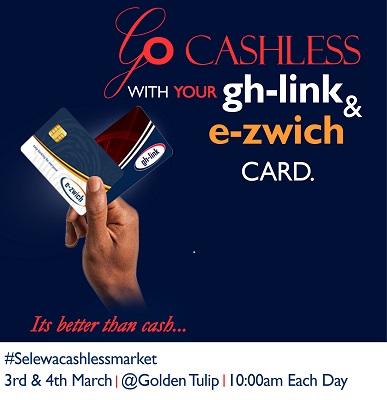 The Ghana Interbank Payment and Settlement System (GhIPSS) has commended organisers of Ghana's premier pop-up market, christened Selewa Market, for creating a platform for shoppers to use electronic forms of payment at the fair.
The fair created over the past 3 years, has provided an avenue for businesses both SMEs and corporate organizations to converge at one venue to sell and promote their products and services.
However, in line with changing trends and in support of government's cash-lite agenda, the organisers of the fair, Melon Concepts is creating a special opportunity for patrons of the Selewa Market this weekend, to shop and pay using various electronic payment options such as electronic cards and mobile money. According to the organisers, shoppers who use electronic means of payments will enjoy a discount on the purchase. In addition to that, they qualify to participate in a lucky dip with mouth watery prizes at the fair, slated for March, 3 and 4 at Golden Tulip hotel, in Accra.
Commenting on the initiative, the Chief Executive of GhIPSS, Archie Hesse said it was laudable and could go a long way to inculcate in shoppers, the habit of using non-cash forms of payment. He said GhIPSS was supporting the initiative by partnering financial institutions, to ensure that the exhibitors have Point of Sales and other devices that will enable them to accept electronic payments. He said officials of GhiPSS will also be at the two-day event to educate patrons on the need to use more of electronic payment channels.
GhIPSS has the mandate of migrating Ghana into an electronic payment society and has over the years, worked with financial institutions to introduce various electronic payment channels that have seen impressive growth in patronage. Over 200 billion Ghana cedis worth of electronic payment transactions took place in 2017 through GhIPSS, indicating a gradual reduction in cash transactions.
GhIPSS has recently introduced the e-bills pay which enables large organisations to receive money transferred to them instantly through electronic means. There is also the GhIPSS Instant Pay (GIP) which allows individuals to send money and the recipient will receive it instantly. The GIP recorded a massive growth in patronage in 2017 from 19 thousand Ghana cedis in 2016 to over 83 million Ghana cedis.
GhIPSS sees the Selewa Market has an opportune platform to further engage the public on the convenience, expediency and other advantages of electronic payments over cash.
Source: GhIPSS